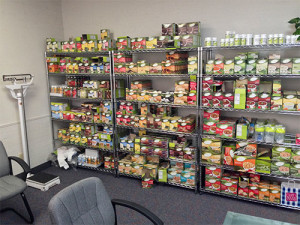 Many of our patients find it difficult to lose weight while they are in pain. To help our patients manage their weight without extensive exercise which could compromise the healing process, we have introduced a cutting edge weight loss system, called Ideal Protein. We chose to carry the full line of Ideal Protein dieting products because it matched all of our search criteria:
scientifically valid
safe and medically proven
proven to consistently work
easy to implement and to follow
affordable
tasty
a system to follow that had a beginning and an end
delivered and supported by a private weight loss coach

Colorado Joint and Spine Institute is proud to offer the Ideal Doctors Weight Loss System – featuring the Ideal Protein Weight Loss System.
What to Expect
Based on over 27 years of experience and 5 million people in Europe, Canada, and now a large group of people in the United States, the program enables the following:
Quick weight loss without sacrificing muscle mass
Gaining an understanding of how food affects and is utilized by the body, including what causes fat storage
Naturally suppressed the appetite
Utilization of fat for energy usually by day 4—fat (including cellulite) that sequesters chemical toxins
Improved energy and appetite control, reduced cravings—usually on day 4 or 5
Improved blood sugar and cholesterol levels, reduced blood pressure
Women typically lose 3-5 pounds per week – men typically lose 4-7 pounds.
This is a 4-stage retraining eating plan (or "treatment") that helps stabilize the pancreas and blood sugar levels while burning fat and maintaining muscle and other lean tissue.
This 4-stage plan is for long-term health promotion and weight control, not a "diet" that leaves participants with the "Now what?" question after weight has been lost.
The 4 Stages
The Ideal Protein Weight Loss System allows you to lose weight with minimal effort compared to most other diets that require buying all sorts of different foods and ingredients and following complicated recipes. With the convenience of Ideal Protein instant packets, you have the option of keeping it very simple… or you may get creative if you like. Recipes are available.
Stage 1: You start out using a packet as the basis of 3 of your 4 meals each day—you follow this until you have reached your weight loss goal.
Stage 2: You reduce the Ideal foods to 2 per day and begin to reintroduce some of the foods that have been restricted.
Stage 3: For weight loss stabilization, you will re-introduce moderate amounts of fats and carbohydrates to your diet for 14 days. You only have 1 Ideal packet per day with 2 other regular meals.
Stage 4: You continue to eat the way you have by this time learned to eat by choosing healthy foods and the right combinations of foods.
Only Available Through Health Professionals
                                          
The Ideal program is only available through trained and certified weight control professionals and utilizes natural health experts to facilitate success for even the most frustrated dieter that has "tried everything" or some troubled with blood sugar challenges.
Our certified weight control professionals guide you through the program. This valuable process serves to educate and encourage all dieters with a consistent method that is scientifically proven and deemed by most as easy to execute and maintain.
Not only do we provide rapid weight loss, cellulite reduction and skin revitalization, we also provide healthy outcomes in disease related pathologies such as Hypertension, High Cholesterol, Diabetes, and Heart Disease.
Call our office if you would like more information on this program or to sign up for our free weekly workshop.