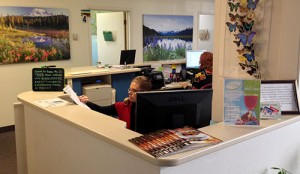 Colorado Joint and Spine Institute is home to Colorado Springs' most comprehensive, nonsurgical, minimally invasive pain relief program.
In our warm, modern, and professional environment, we have exceeded the standard for patient care by using the most advanced procedures and technologies to obtain maximum results with the minimum of time, expense, and discomfort to you.
As our community population continues to age, challenges with the knees, back, hips, and even weight continue to grow – resulting in a modern-day epidemic.
Today, more than 20 million Americans suffer from osteoarthritis which causes chronic pain, and often times, disability or severe restrictions of daily activities. These staggering statistics prompted the creation of Colorado Joint and Spine Institute – which is a multi-specialty clinic where interdisciplinary physicians work closely together to put focus on our patients for improved outcomes, lesser pain, and faster recovery.
We strive on keeping you active and enjoying the life you want to lead.